Relax in Elegant Tranquility
Do you miss being surrounded by verdant trees, hearing your own heart beat?
Perhaps you need a writer's or artist's retreat. How about a place to watch ballgames with friends or binge-watch old movies alone?
What about a perfect little dinner party or a big cookout? Ready for that girlfriend getaway?
Tennessee Retreat Log Cabin offers a chance for renewal of friendships or refreshing of your own spirit.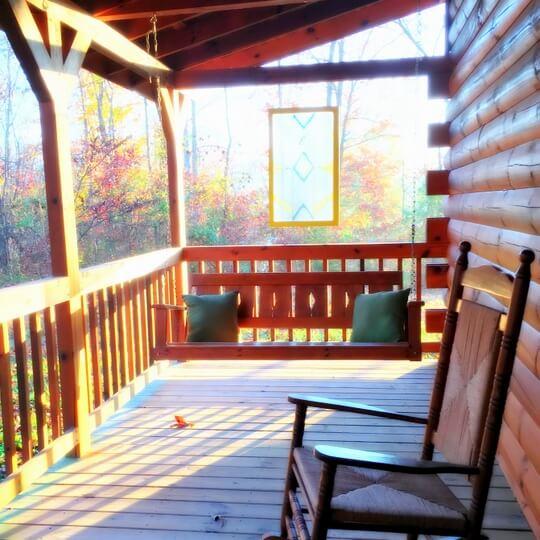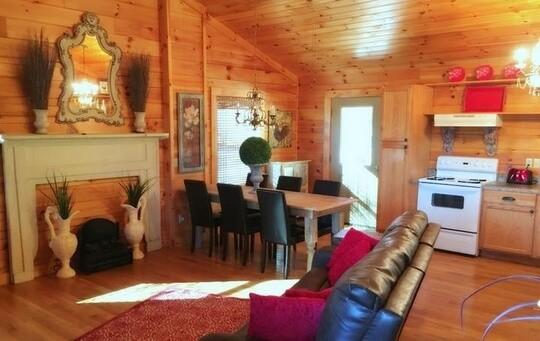 Tennessee Retreat Log Cabin, nestled in the beautiful hills of the Eastern Highland Rim, has everything you need to escape in style.
The cabin's thoughtful amenities let you comfortably enjoy the serenity of the woods with casual or formal dining, antique or necessity shopping, water activities on Dale Hollow Lake, historic and natural attractions and live entertainment only a short drive away.
It's an affordable and convenient alternative to traditional lodging choices for a vacation, business trip or weekend getaway, as well as a creative venue for a small wedding, a private party or special event.
Your hosts, Harry & Carmen Matthews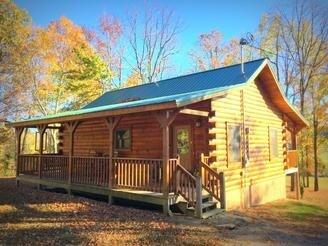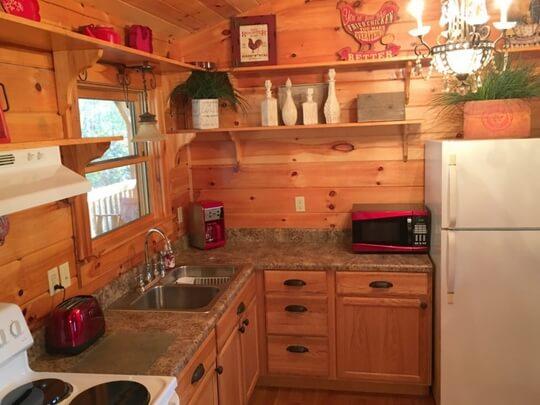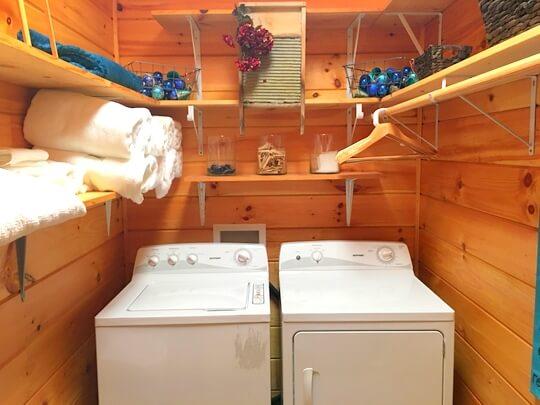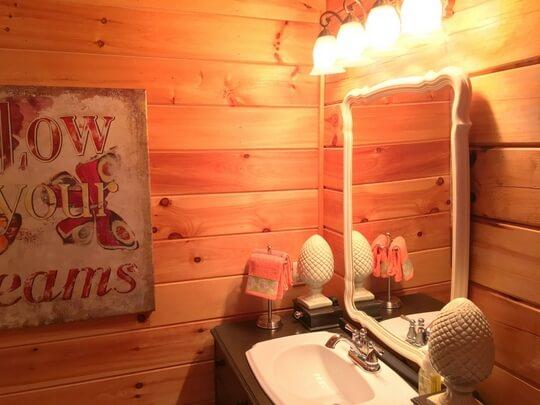 At Tennessee Retreat Log Cabin we want you to be comfortable. That's why we are providing as many comfort items as possible to make your stay truly tranquil.
What You Bring 
Personal Care Items
Food& Beverages
Personal Electronics
Clothing
What We Provide 
Kitchen Dishes, Cookware and Utensils
Outdoor Gas Grill
Coffee
Wi-Fi
Satellite Television
Laundry Room with Detergent (if you have allergies or special needs, you may want to pack your own)
Guest Soap, Shampoo & Conditioner
Pillow-top King Mattress, Master Bedroom
Inflatable (Electric) Double Bed
Detached Garage
Resource Guide for Regional Attractions
Custom Catering (available for separate fee by prior arrangement)
Experience a Real Log Cabin 
Tennessee Retreat Log Cabin is a D-log style cabin with a spacious interior that belies its small size. The kitchen, dining room and living room are one large, open space accessible through a front or back door. Guests will enjoy satellite television, Wi-Fi, an outdoor grill and a full kitchen.
A separate bedroom is has ample room for a king-sized bed and accompanying furnishings. There's a large closet, a laundry room with space to store luggage and a master bath with a shower-tub combination.
Outside, there is a full-length covered porch on the front and back of the cabin with rocking chairs, tables and  plenty of room to entertain, relax, read or even work a little. Acres of woods are all you see from the back porch, while the front porch overlooks a deep lawn creating a secluded environment.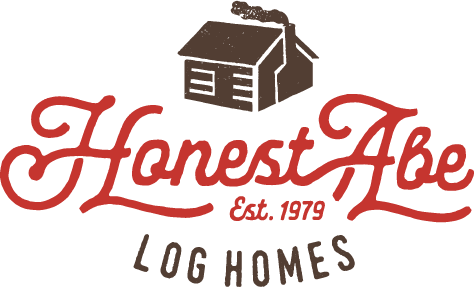 Our Cabin was Locally Manufactured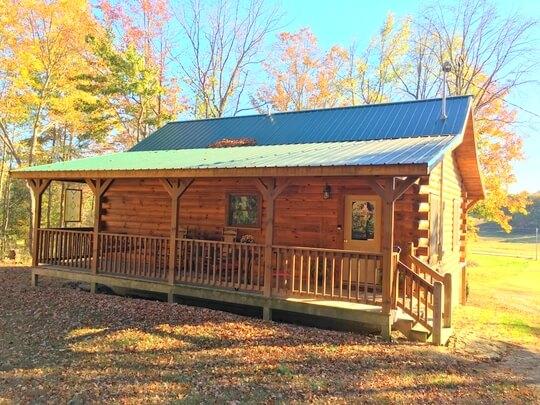 Tennessee Retreat Log Cabin is cozy log house designed, manufactured and built by Honest Abe Log Homes, a respected log home company that has been in operation since 1979 and headquartered in Moss, Tennessee, only a mile from Tennessee Retreat Log Cabin.
Tennessee Retreat is the perfect lodging solution for visitors to Honest Abe who want to stay near the Honest Abe Log Homes National Headquarters and manufacturing facility while they attend one of several annual log raisings, meet with designers and sales staff or tour the log home milling plant. Staying at the Retreat is the perfect chance to experience living in an authentic Honest Abe Log Home.
Honest Abe homes are manufactured to order from kiln-dried Eastern White Pine. These energy efficient homes are available in a variety of log styles and can be created from any plan. Honest Abe also designs, manufactures and builds timber frame log homes and hybrid homes.
Contact Beth Crowe for Your Event Planning, Decorating, Food and Desserts
Catering services are available by prior arrangement for your private stay in a Tennessee Retreat property or for a party, cookout, wedding corporate retreat or any other need.
Catering is provided by a local company, Beth Crowe Caters, with many years of experience in creating meals and setting the mood for everything from an intimate dinner to a company picnic. Ask us about your options. You will not be disappointed!
Call: 615-655-7642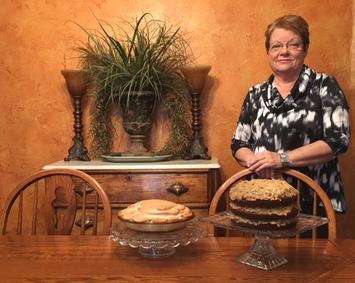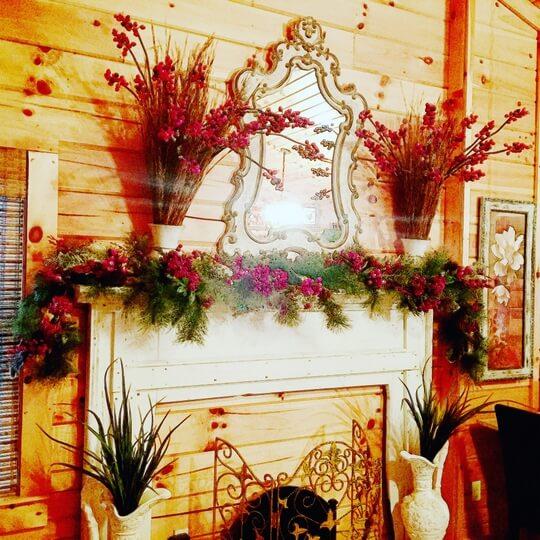 Things to do in the area…
The Log Cabin is located within 30 minutes of beautiful Dale Hollow Lake and the small town of Celina that has antique stores, boutique stores, local restaurants and amazing fresh fish and BBQ. Go kayaking, explore more than a dozen waterfalls or play a round of golf within a short drive of the property.
For a  list of enticing ideas, click below the Attractions button.