Begin Forever at the Hayes House
Against a backdrop of history, comfort and elegance.
The historic grounds of the Hayes Century Farm and the elegant Edwardian-era Hayes House provide an unforgettable canvas for capturing the beginning of your new life together.
The historic estate house has four bedrooms with one queen bed in each room, a full kitchen, dining area, living room, expansive porches and two full baths. Because use of the house the night before and the night after the wedding are included in the wedding package, there is ample room for the bride and bridesmaids, groom and groomsmen and the couple's parents and grandparents to dress for the wedding and relax afterwards. (Cleaning fees included.)
The grounds include the historic barn with seating and chandeliers to make a barn wedding dreamy or rustic, a temperature controlled event space to host your seated dinner, standing reception and dance floor, a covered outdoor space for overflow seating or standing receptions and the gorgeous outdoor grounds where magical events can happen.
For a gallery of photos and additional information about the Hayes House, click HERE.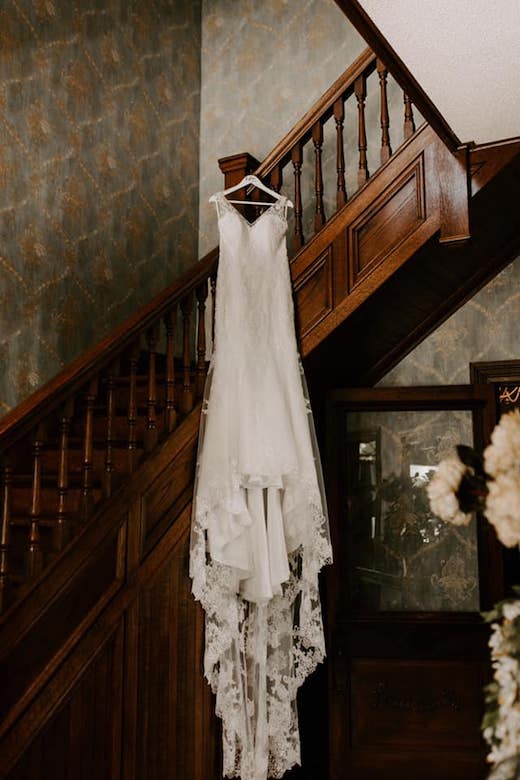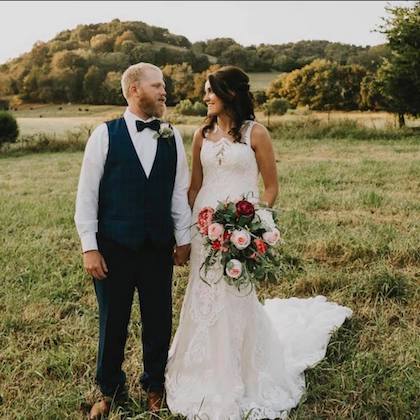 What's Included?
Full access to the Event Building with seating for up to 125 people
• Chairs and round tables, each with seating for 8
• Drinkware – wine and water glasses -Plate Charger
• Table linens (white)
• Use of stone fireplace with electric logs
• High quality disposable plates and utensils
• 65" TV on pedestal for presentations of video
• Rectangular tables for serving lines
• String lighting in Barn & Event Center
Full access to the Barn with seating for up to 125 people
• Bench seating in the Barn
Set up and clean up
Guest rest room temperature-controlled facilities
1 night lodging in the Hayes House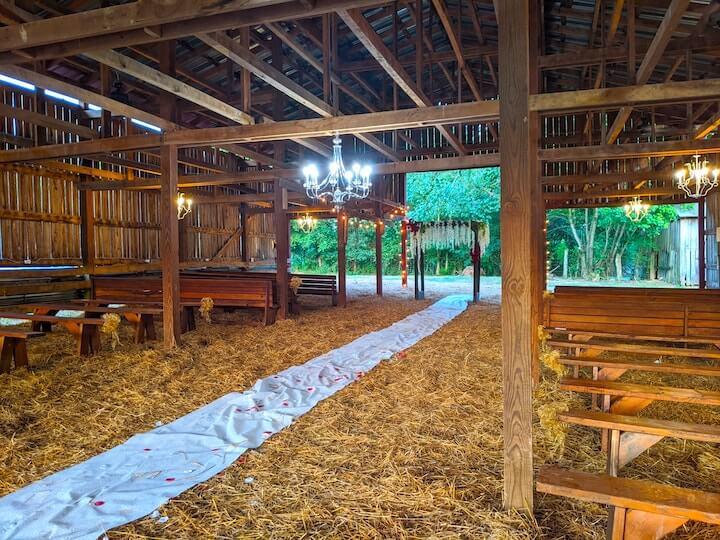 The Barn
The barn offers additional space to host festivities including a wedding ceremony. With rustic bench seating and a packed dirt floor, the barn provides a rustic elegant setting with soft lighting for a country wedding ceremony.
Guests can move easily to the event building for a reception that complements the outdoor feeling with the comforts of the indoors. For larger parties, the grounds offer ample room for added tenting. On ground adjacent to the event building tents can be added for reception space, dance floors or outdoor dining.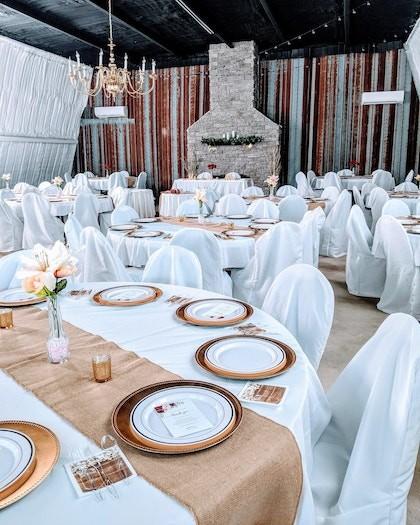 The Wedding Reception
On the gentle and gracious grounds of the Hayes House Estate there is indoor space for a seated meal for 125 guests.
With the amenities of indoor seating, a large stone fireplace provides a year-round option for the high ceiling room with white walls and large glass doors and windows that provide an inside /out feeling.
The events building also sports a "serving nook" for food buffets.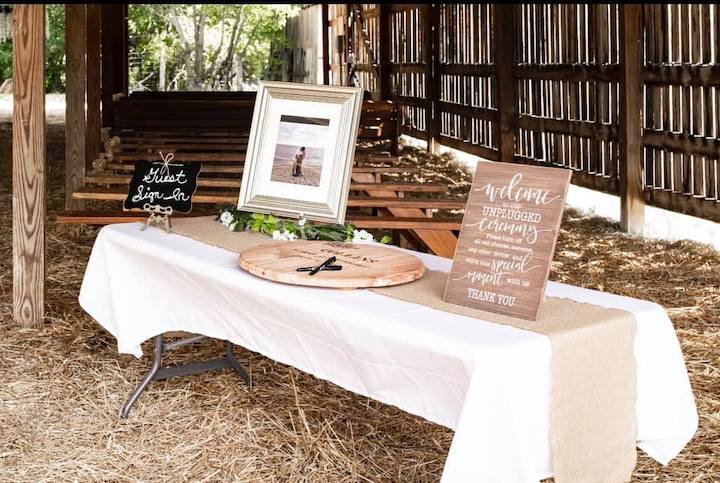 Getting There
Getting there. Hayes House is located on the Cumberland Plateau in Middle Tennessee. Minutes from Dale Hollow Lake, it is just under a 2-hour drive from downtown Nashville. Cookeville is about the halfway mark and would be an ideal place to book blocks of rooms for wedding guests to avoid the Nashville hotel prices.
Regular shuttles are available between Cookeville and Briley Nashville International Airport. This same shuttle service can be booked for guests to and from Hayes House.
While some prefer to provide transportation for guests to and from Hayes House on shuttles or private coaches from Nashville, there is ample parking on the grounds for guests who arrive on their own.
A side outdoor patio area provides a reception space during the warmer nights.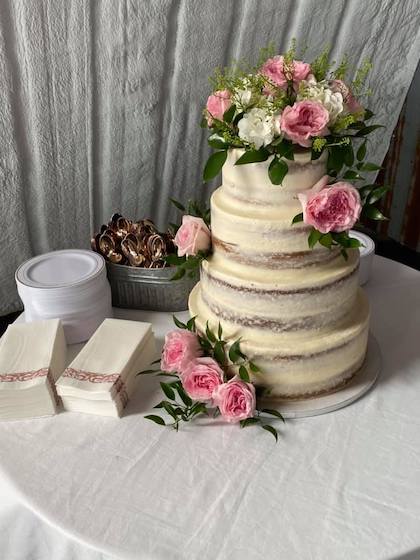 Conveniences
Despite the historic atmosphere of the Hayes House Estate, the Events Building has prep space for catering and provides ample electrical access for the ability to add ambient string lighting and sound equipment for a band.
New restroom facilities on the grounds provide year-round access for guests.
Choose your own caterer and photographer, or ask us to help you find the professional you need.
Set Up and Clean Up are included in the wedding package.
The package offers use of the historic Hayes House from the evening before thr wedding until the morning following the wedding, including two nights' lodging and maid fees at no additional charge.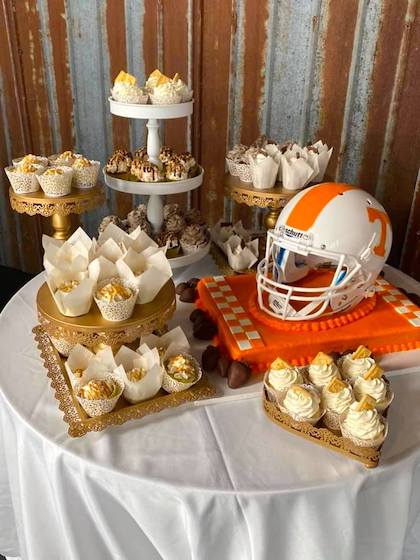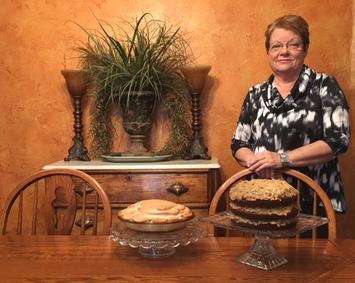 Contact Beth Crowe for Your Event Planning, Decorating, Food and Desserts
Catering services are available by prior arrangement for your private stay in a Tennessee Retreat property or for a party, cookout, wedding corporate retreat or any other need.
Catering is provided by a local company, Beth Crowe Caters, with many years of experience in creating meals and setting the mood for everything from an intimate dinner to a company picnic. Ask us about your options. You will not be disappointed!
Call: 615-655-7642
Contact Us About Weddings at Hayes House & Event Center