Jessica and Caydan Ferrell
July 17,2021
Jessica and Caydan Ferrell were married at Hayes House on July 17, 2021.
Their style? –  Elegance with Country Style
Jessica planned her wedding fully aware that a mid-July date could be toasty!   For her own wedding dress, she selected a sleeveless gown with a lace bodice over the layered dress. The bridesmaids were in matching gentle summer mauve floor length halter dresses. 
The Groom matched his groomsmen sported stone washed Levi jeans and white long-sleeved button down shirts. The Groom wore a black vest with the groomsmen in matching suspenders.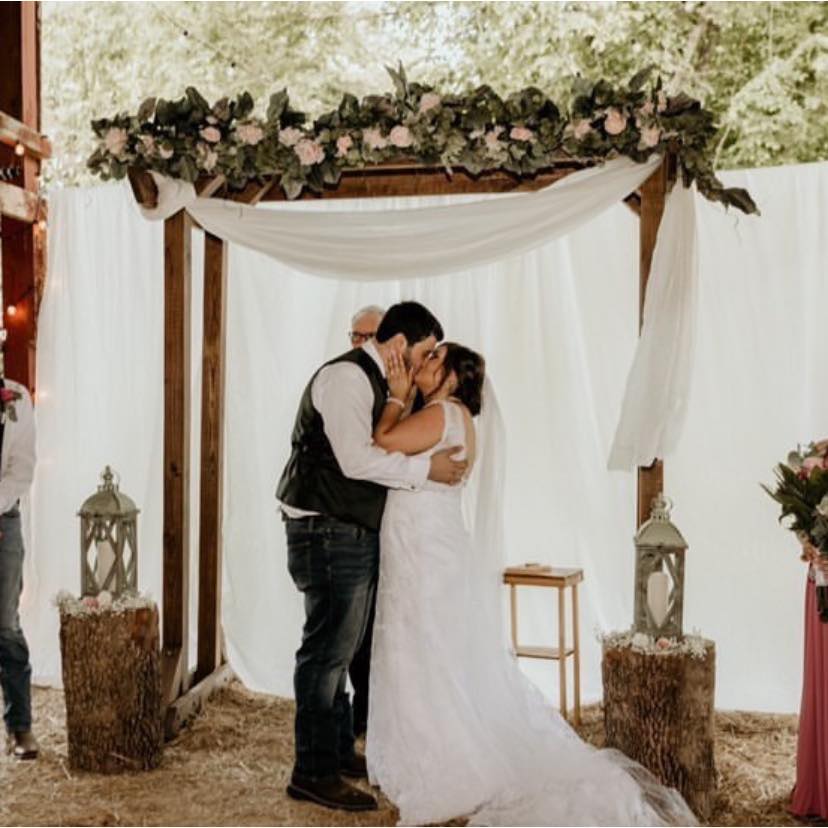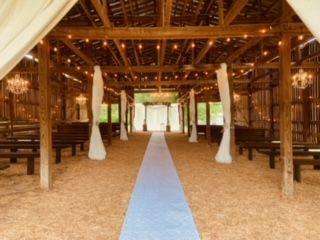 The barn turns elegant with the afternoon sunlight and open doors. The gauzy white curtains lend romance as does the long white runner leading to the later area in the barn.
The Bride added a pop of greenery to the guest welcome table with ferns and a welcome message.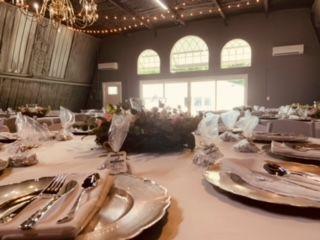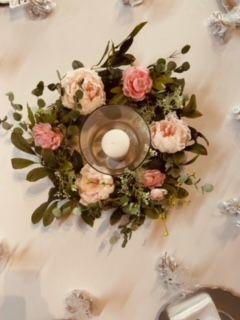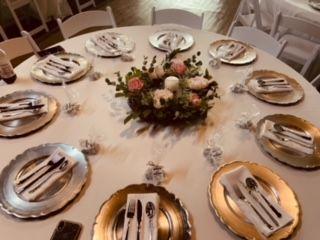 The couple opted for a central three tier wedding cake crafted by Andrea Isenberg Coffelt who trimmed the cake with flowers matching the bridal bouquet and table decor.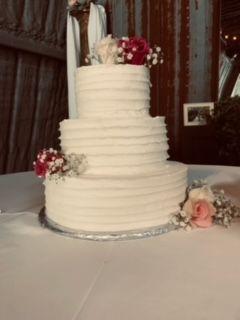 A sweet gift to the guests from the Bride and Groom were found at each place setting with Hugs and Kisses from the newlyweds! The chocolate was a perfect accent to the wedding cake.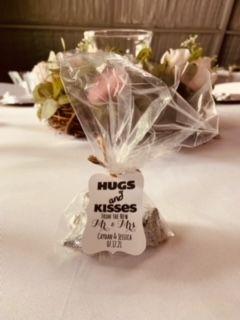 The Wedding Team
Planner – The Bride and Friends
Still Photographer – Lakyn Conner, Katelyn Shelton, Tessa Craig
Videographer – Jay Tee Hardin
Decor and Flowers  – Anita Hammock & Rena Boles
Wedding Cake  – Andrea Isenberg Coffelt
Wedding Dress – Country Bumpkin Boutique
Bridesmaid Dresses – Amazon
Groom's and Groomsmen Attire – Overton Department Store
Bride's Hairstyle – Hannah Rose Nivens
Bride's Makeup – Gracie Isabella Ramsey & Sydney Danielle Trent
Bridesmaids Hairstyle and Makeup – Taylor Alexander
Bridal Rings – J.C. Penney
Groom's Ring – Manly Bands