Jodi & Dustin Collins
September 24, 2022
Jodi and Dustin Collins  were married at Hayes House on September 24, 2022.
Their style? –  Joyfully Elegant!
Leaving the barn doors wide open, draped the alter with early fall warm sunshine and provided a natural backdrop of green trees to frame the couple and the wedding party.
 The Bridesmaids dresses in a soft green are iluminated by the green natural backdrop behind them.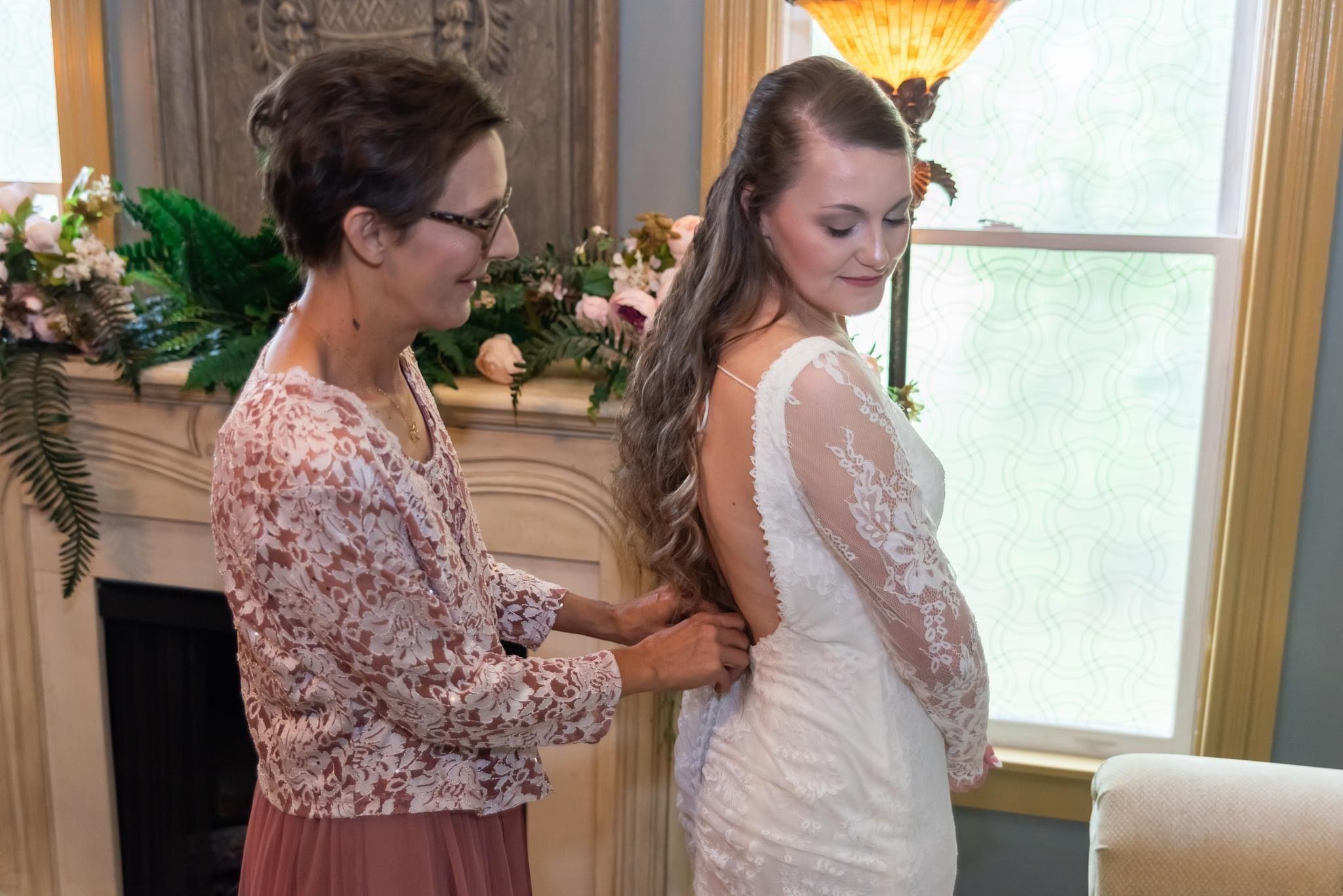 Jodi planned her wedding knowing that September is generally a dry month, but that it can be chilly or more like a late summer day! She chose a backless dress, but kept full length lace sleeves and a heavier lace veil which allowed her to stay cool, but had some added protection from cool breezes.
The Groom wore a waisted gray tux suit with a blue accented floral tie and a white boutonniere.
The Bride and her Bridesmaids prepared for the wedding in matching dressing outfits for hairstyling and makeup.
Using the Historic Hayes House, the wedding party had a beautiful settting in which to dress.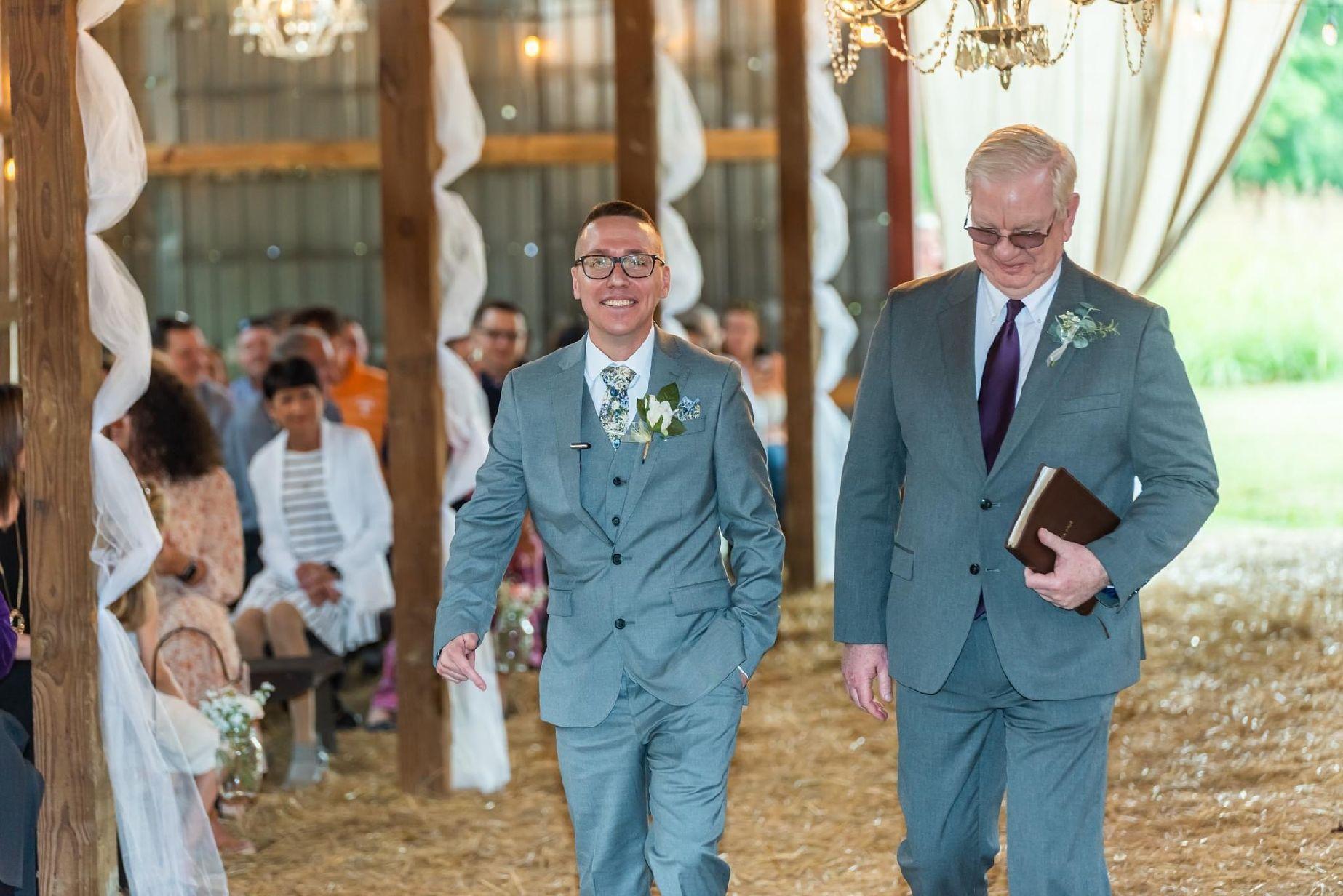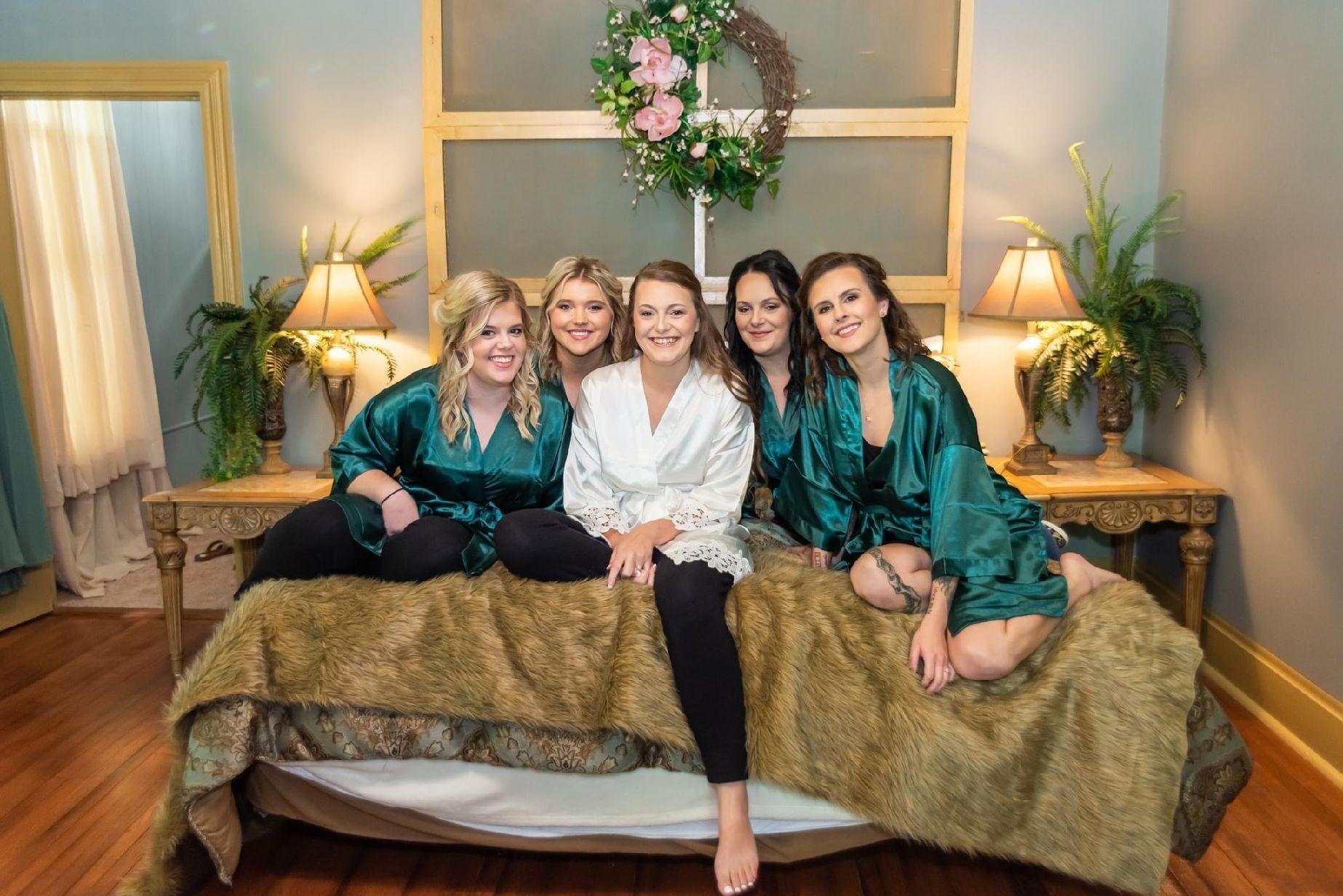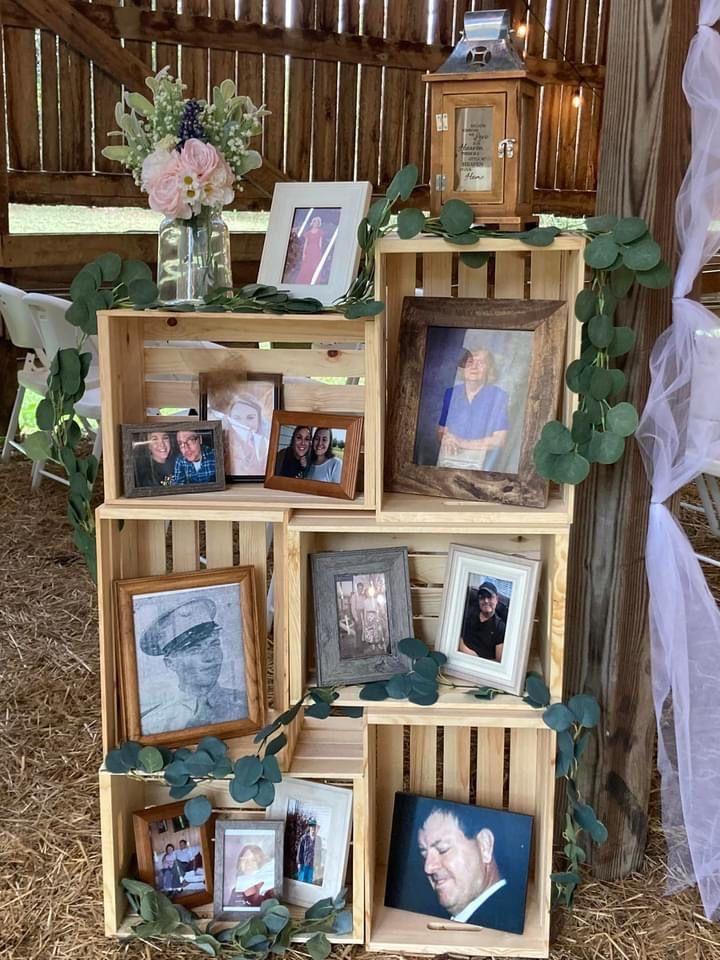 The Bride chose to recognize the extended family, including members who are deceased, as she plans her new family with Dustin. Using framed photographs of family, the Bride added photos to an antique armour, sourced by her wedding planner, and some wooden crates.
Below, the wedding rings and the bride's bouquet are displayed on a wood log.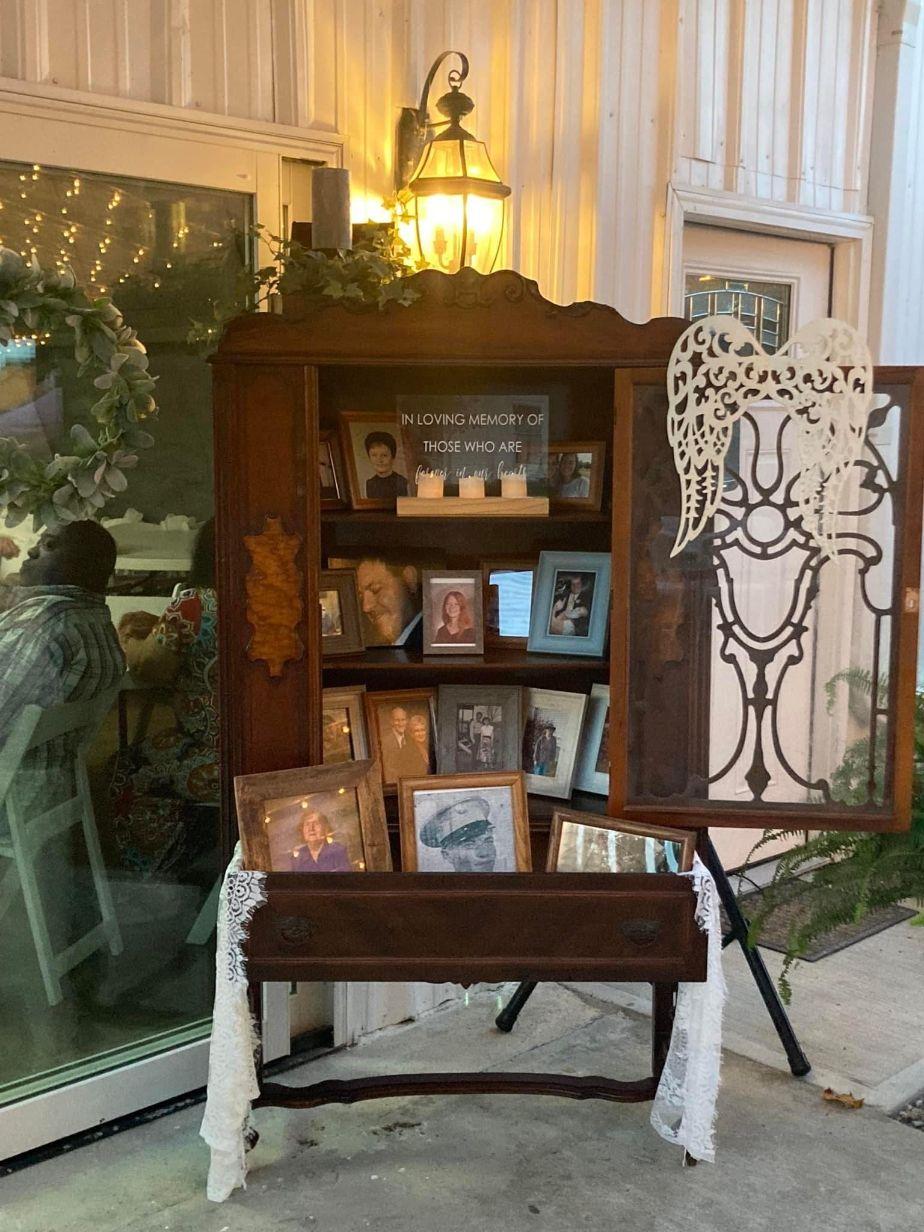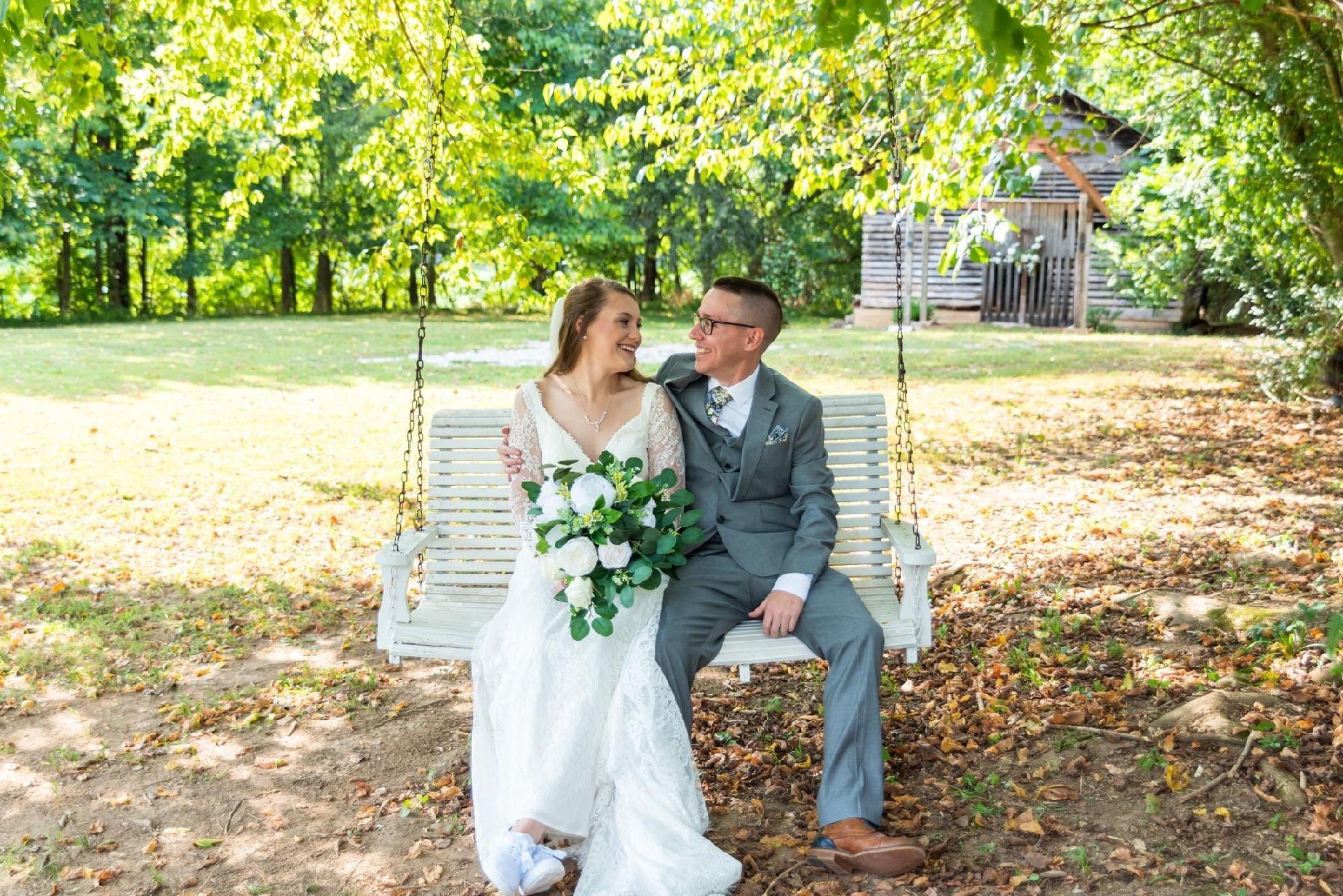 The Bride's dress and bouquet is seen in the photo below as the couple sits on the swing.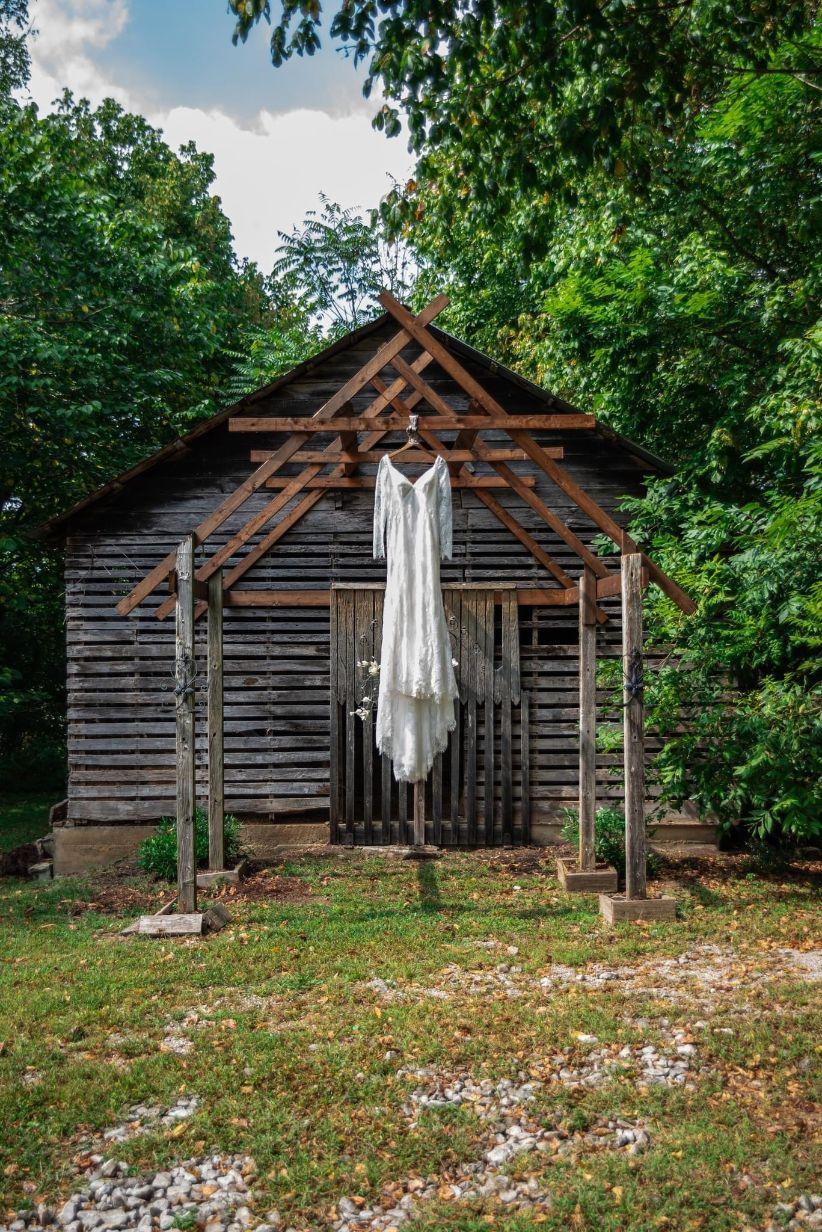 The Bride & Groom pause for a photo in the historic barn of the Hayes House with the tulle wrapped barn posts and the barn's chandeliers and soft lights. 
The couple made use of the outbuildings on the property of the Historic Hayes House. Using the framing as a place to hang the wedding dress and as a place to steal a kiss following the wedding.
The Wedding Team
Planner- Michelle Watson
Photographer- Jason Ward Events
Videography-Jason Ward Events
Decor & Flowers – Michelle Watson & Melissa Smith
Wedding Cake- Linda Mowell
Cup cakes- Linda Mowell
Wedding Food & Catering- Melissa Smith & Happy Sak
Wedding Dress- Country Bumpkin Boutique
Bridesmaid Dresses- Azazie
Groom's & Groomsmen- JC Penney's
DJ – Troy Ameen – DJ Troy Production
Bride's hairstyle & makeup- Maddy Harlan
Bridesmaids Hair and makeup- Maddy Harlan
Bride & Grooms Rings- Kay Jewelers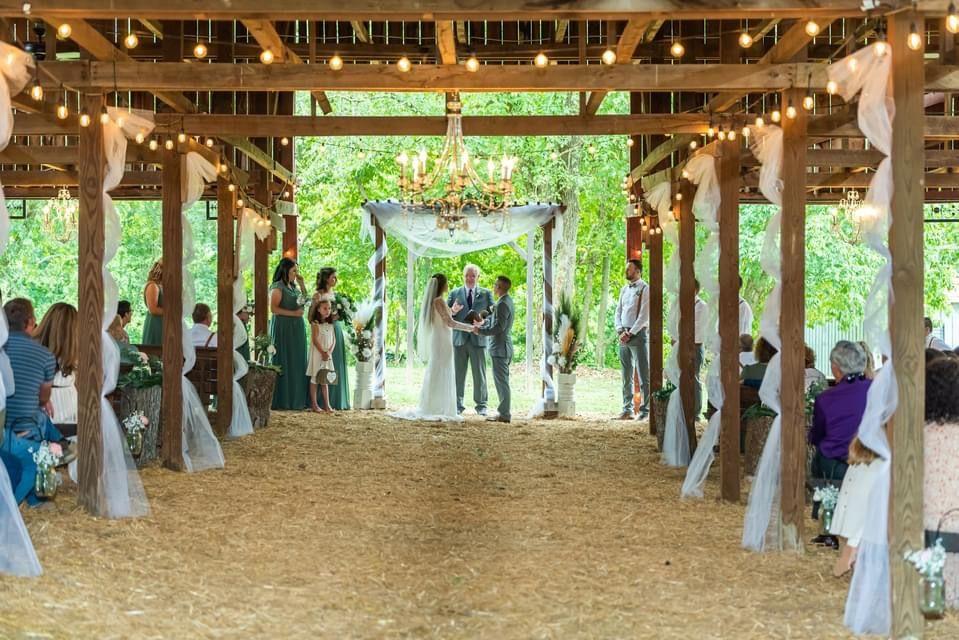 The wedding party is framed perfectly with the wide open barn doors and the light green of the bridesmaids dresses and gray of the groom and his attendants.